This Mexican Pulled Chicken Taco recipe is a really easy dinner, simply toss all the ingredient in a casserole dish and let the oven do all the work. It is a family favourite, so spruce up your Taco Tuesday this week and add this recipe into your weekly meal plan. If you are not a fan of tacos you can turn it into a buddha bowl serve with cauliflower rice, this also makes this recipe gluten-free.
It's back to school season and our home was a little sad that summer vacation was over but we are all loving the routine that back to school brings. This week a huge focus was to get back into prepping lots of healthy meals – specifically family dinners, lunches and lots of snacks. This recipe is amazing because you can whip it up in a casserole dish or you can add it to your meal prep Sunday routine by tossing all ingredient in a large freezer bag. That way you can bust it out in the morning of a busy day, let thaw in fridge and toss it in the oven when you get home. You could also cook in the slow cooker if that works better for your schedule. The idea is to eliminate the excuses of not having time to cook healthy meals by being prepared and planning ahead.
I was recently on a cooking video sharing easy dinners to whip up for moms, and this is one of my new recipes that I shared with the viewers. So obviously my next move was to share it here with all of you. The reason I love this dish is because it is so versatile. Honestly these types of meals are my fav because they are easy to make, flavourful, healthy and just really really good!
Mexican Pulled Chicken Tacos
Makes: 4-6 servings
Prep Time: 5 minutes
Cook Time: 40-45 minutes
Ingredients
2 teaspoons chili powder
1 teaspoon cumin
1 teaspoon garlic powder
½ teaspoon onion powder
dash of salt and pepper
2 cloves of garlic, minced
4 boneless skinless chicken breast (can sub for 4 cups cooked chickpeas)
1 (28oz) can diced tomatoes
1 (15-19oz) can black beans
1 cup organic corn
½ orange pepper
½ yellow pepper
wraps or lettuce wraps
Desired toppings for garnish – cashew sour cream, avocado or fresh cilantro
 Directions
1.     Preheat oven to 375 F.
2.     In a small bowl add chili powder, cumin, garlic powder, onion powder, salt and pepper.
3.     Pour diced tomatoes with juices and garlic in the bottom of a 9 x 13 inch casserole dish. Add in spice mixture and stir to combine.
4.     Place chicken breast to cover bottom of pan without overlapping.
5.     Add black beans and corn, stir tomatoes, corn and black beans to coat chicken.
6.     Bake 40-45 minutes (until chicken breast cooked through), remove from oven and shred chicken with two forks so it looks like pulled chicken, stir mixture.
7.     Serve in wraps with desired toppings.
Note – To make this as a freezer meal simply toss all ingredients in a large, good quality freezer bag. Freeze up to 3 months. When you are ready to cook, pull out the night before or morning of and cook the same way or in crockpot.
Change it up – as I mentioned above this recipe is really versatile so I wanted to share how you can make one meal a few different ways. You can turn into Mexican Bowl by adding spinach, rice, chicken mixture and diced avocado, turn it into Mexican Nachos, or place mixture over salad for a Mexican Chicken Salad.
Eating healthy, real, whole foods fills your body with energy, nutrients and antioxidants. Imagine every one of your cells smiling back at you saying thank you!

Pam Rocca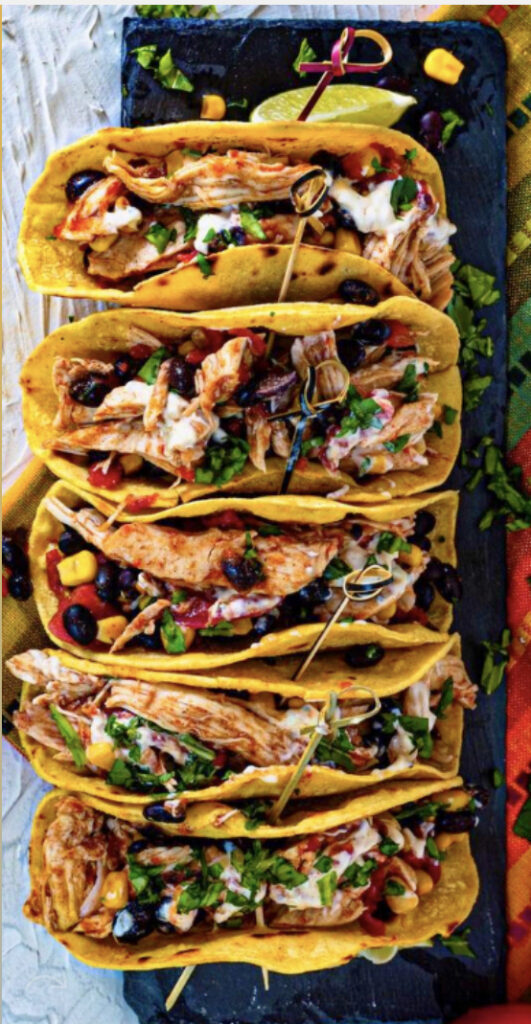 If you have kids that are back in school I hope you are all adjusting well and that you are finding your groove. Even if you don't have kids in school you will still enjoy this recipe, it's is a huge crowd pleaser.
If you make this recipe I would love to hear what you think in the comments below. Don't forget to tag me in your picture on Instagram @pam_rocca, I love seeing what everyone is enjoying. As always sharing is caring, if you know someone who would love this recipe I would so appreciate you sharing it with them because who doesn't love free recipes?
Happy Meal Prep Sunday,