It's Summer Season and this blog is dedicated to sharing lots of fresh, inspiring and delicious recipes. Salads are one of my favourite lunches for summer, I love to switch them up so it's not the same boring lettuce salad all season. When we switch up our meals and the ingredients in them we add more nutrients into our system each day. This Creamy Roasted Red Pepper Chickpea Salad is loaded with real whole foods, flavour and nutrition.
This salad is a crowd pleaser and can be serve up as a side at a Summer potluck or Barbeque or meal prep it for your lunches during the week. You can serve it up as is in a bowl or toss it in a lettuce wrap.
Be creative with the veggies you have on hand at home and have fun experimenting to make this recipe work for you and your family. If you are not a fan of chickpeas you can enjoy this as a chicken salad instead by replacing the chickpeas with 2-4 boneless skinless chicken breast, chopped and cooked. This could also work as a Quinoa Salad by replacing the chickpeas with 1 cup dry quinoa, cooked with 2 cups water according to package directions.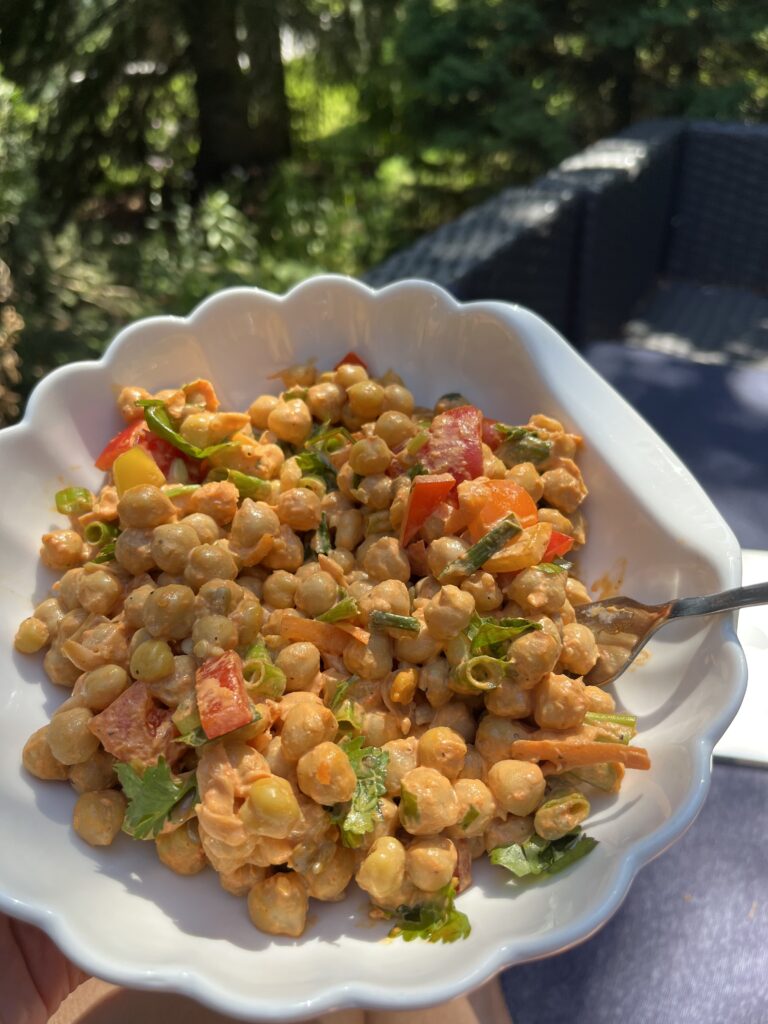 This Creamy Roasted Red Pepper Chickpea Salad checks all the boxes but most importantly it smells and tastes absolutely fantastic!
Chickpeas are a great source of carbohydrates, plant-based protein, fibre and a little iron and potassium. The cashews in the dressing are rich in protein and healthy fats they are also an excellent source of antioxidants. This salad works because it has a delicious aroma, lots of crunchy textures, it's visually so appetizing (and pretty) but most importantly each ingredient brings nourishment to your body. It's important to have a healthy fat with each meal especially as women. It help with our hormonal health, to digest our fat-soluble vitamins and to keep us fuller longer. If you have a nut allergy or want to save a step in making your own dressing you can absolutely use store bought red pepper dressing. Just be sure to read the ingredients list to make sure it suits your nutritional needs. I love to make my own because it's fairly easy and that way I know exactly what is in my food.
This recipe is:
Plant-based/Vegan
Dairy-Free
Gluten-Free
Delicious
Best Creamy Roasted Red Pepper Chickpea Salad
Makes: 3-4 servings
Prep Time: 10 minutes (plus soaking cashews overnight or for 1 hour in hot water)
Ingredients
1 (16oz.) can chickpeas, drained and rinsed
1/2 red bell pepper, diced
1/2 yellow bell pepper, diced
1 stalk celery, diced
2 green onions, diced
roasted red pepper dressing (see recipe below)
option to top with a sprinkle of sunflower seeds or fresh cilantro
Directions
In a large bowl add drained and rinsed chickpeas and pat dry with paper towel or clean towel to remove excess water.
Add in diced red and yellow bell peppers, diced celery and green onions and mix to combine well.
Make roasted red pepper dressing and add one tablespoon at a time until desired coating. Stir well to combine all ingredients evenly.
Roasted Red Pepper Dressing
Makes: 1 cup
Ingredients
2 roasted red peppers, cut in half and stems and seeds removed (or 1 370 ml jar roasted red peppers)
1 tablespoon avocado oil
1/2 cup cashews, soaked overnight in room temperature water (or 1 hour in boiling hot water)
1/4 cup olive oil
3 tablespoons balsamic vinegar
2-4 cloves garlic, minced
1 teaspoon onion powder
1 teaspoon paprika
dash of salt and pepper
Directions
Preheat oven to 400 degrees F. Core peppers and cut in half. Coat with avocado oiland place open side up on baking tray.
Bake 20 minutes then flip and bake another 20-30 minutes until peppers look soft and a little charred.  **If you want to skip this step used jarred roasted red peppers to save time.
Drain water from soaking cashews and place all ingredients (cashews, roasted red peppers, olive oil, balsamic vinegar, minced garlic, onion powder, paprika, and a dash of salt and pepper)  into a small food processor and blend until smooth.
Store any extra dressing in a jar in the fridge for 7-10 days.
If you make this recipe I would love to hear what you think in the comments below or tag your photos over on Instagram @pam_rocca. I love seeing what you guys are creating and enjoying from the blog.
It also helps to inspire more people to try out healthy recipes. If you know someone who would love this recipe I would so appreciate you sharing it with them. Staying motivated to eat healthy is a super power.
With Love,