Cookies for breakfast? Yes please! These cookies make a great breakfast or grab and go snack, they are loaded with protein, fibre and other nutrients that will fuel your day.
When creating new recipes I try to think about what nutritional value each ingredient will bring to the body. So why are these called "superfood" cookies? Because each ingredient brings a little awesomeness.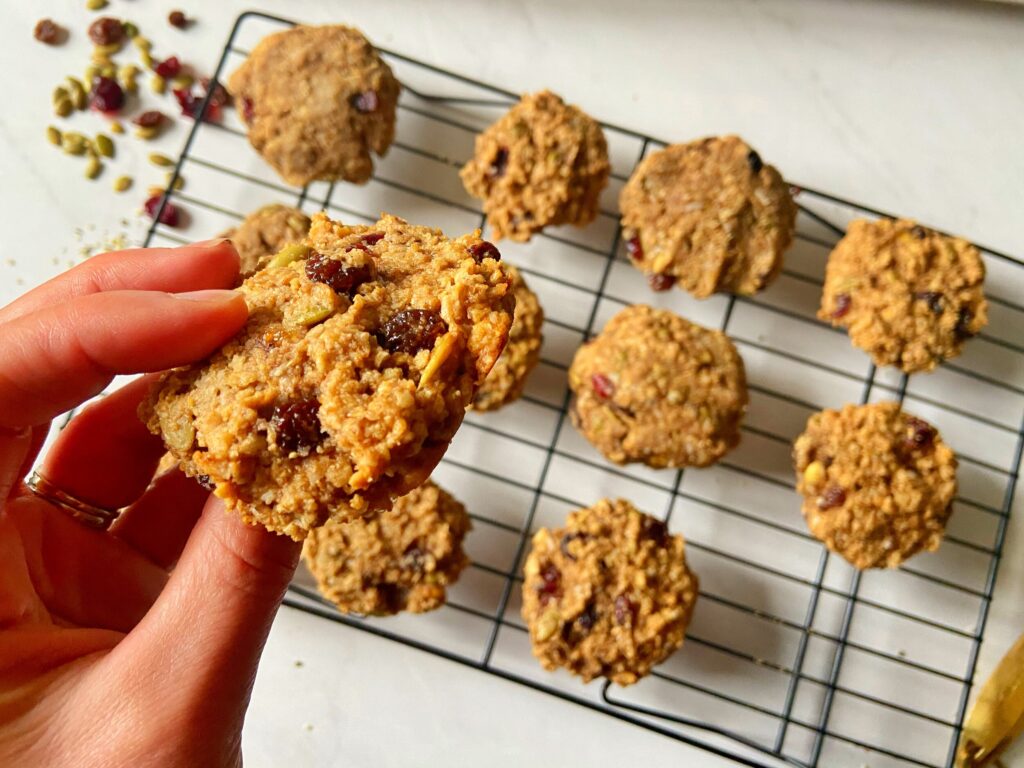 Almond flour – adds healthy fats and proteins which keep you fuller longer. It also contains fibre, calcium, magnesium and iron.
Oats – add healthy carbs, protein, fibre and iron. Soluble fibre keeps you feeling fuller longer, helps the digestive system, help to pick up and eliminate toxins. Oats help to regulate blood sugar levels and they are rich in antioxidants, which help to protect the body against free radicals.
Dried Cranberries – adds antioxidants and fibre. They do contain sugar so they are added in moderation. If you don't have cranberries you can sub for chopped, pitted medjool dates, cacao nibs, chocolate chips or more raisins.
Ground Flaxseeds – adds omega 3 fatty acids which are essential fatty acids that we need to consume in our diet and they also help to reduce inflammation in the body. Flax seeds also contain protein and are rich in dietary fibre, both soluble and insoluble.
Pumpkin Seeds – adds protein, healthy fats, fibre and iron. If you don't have pumpkin seeds any nut or seed will work.
Cinnamon – adds a sweet taste and fragrance without any added sugar or calories. Sugar is beneficial for balancing blood sugar levels,also contains antibacterial and antifungal properties. I love to sprinkle this super spice in smoothies, desserts, trail mix, granola, teas and elixirs.
Banana – adds a natural sweetness to the cookies without adding refined sugar. If you don't do bananas you could sub for pumpkin puree or apple sauce.
Peanut Butter – adds more protein, healthy fats and helps to bind cookies without using butter and sugar. If you want to make this nut free you can sub with canned pumpkin puree.
Egg – adds protein and helps to bind the cookies. If you wanted to make this recipe vegan simply swap the egg with a vegan egg by mixing 2 tablespoon of ground flaxseed with 4 tablespoons water let sit for 10 minutes before using.
They are made with pantry staples so you can whip them up anytime. I also share lots of substitutions so can customize for your nutritional needs, goals and likes. They are gluten and dairy free and I share tips on how to make them vegan.
Superfood Breakfast Cookies
Makes: 12 cookies
Prep Time: 10 minutes
Bake Time: 12-14 minutes
Ingredients
1 cup almond flour
1 cup gluten free oats
¼ cup dried cranberries (craisins)
¼ raisins
¼ cup ground flaxseed
¼ cup pumpkin seed
¼ cup unsweetened coconut flakes
1 tablespoon cinnamon
¾ teaspoon baking soda
1 banana
½ cup all natural peanut butter
¼ cup pure maple syrup
1 egg
Directions
1.     Preheat oven to 350 °F and line baking tray with parchment paper.
2.     In a large bowl add banana and mash with a fork until pureed. Add in peanut butter, maple syrup, and egg stir wet mixture together.
3.     Add in almond flour, oats, craisins, raisins, ground flaxseed, pumpkin seeds, coconut flakes, cinnamon and baking soda. Stir until well mixed.
4.     Form batter into balls and press down into cookie shape, will make 12 cookies.
5.     Bake for 12-14 minutes, until edges golden. Store in air-tight container in fridge for up to 7 days or freeze up to one month.
If you know a friend who would enjoy this Superfood Cookie recipe I would so appreciate you sharing this recipe with them. If you make the them I would love to know what you think in comments below or DM me on the socials @pam_rocca.
Happy Sunday,