This healthy school safe chocolate cookie recipe is another variation of our famous breakfast cookies. Each variation has been a huge success as this recipe is pretty flexible with the ingredients you add in. Who has time for complex baking anyway?
I developed this recipe after Layla fell in love with our last school safe breakfast cookies. She is a huge chocolate fan and I am always trying to find ways to ensure her body get the nutrition it needs in a fun way. The kids love a good treat in their lunches so why not add in something that they enjoy and you know exactly what is in it. This recipe is easy enough that she can actually make them herself which is a win-win because I have extra hands to help with snack prep for the week. One of my favourite tips for other parents is to get your kids in the kitchen at an early age with you. She started young and loves to cook and bake which is an important life skill for everyone.
This Healthy School Safe Chocolate Cookie recipe will be your kids new favourite snack. They are gooey and delicious.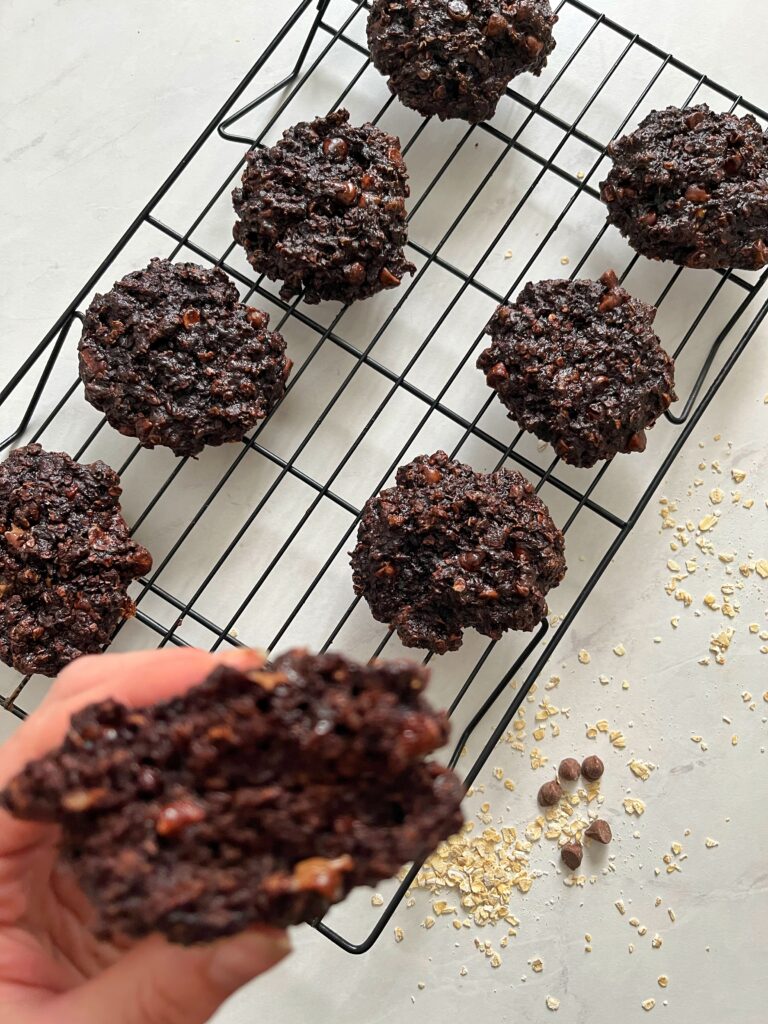 Sure, this recipe looks too good to be healthy but here is why it works:
Oats are amazing for the body because they contain soluble fibre which helps to control blood sugar levels, can increase healthy gut bacteria, lower inflammation and lower cholesterol levels. Fibre is so important for the body and if you have picky eaters like I do, then you absolutely understand how to creatively sneak it in. I love to use oats in cookies, muffins, energy balls, breakfast bakes or crisp because they are so good for you. To keep the recipes gluten-free ensure you are getting gluten-free oats. I love Bob's Red Mills Organic Gluten-Free Oats: https://amzn.to/3LOWCUZ
Tahini is ground up sesame seeds which makes it naturally nut-free. It also contains protein, healthy fats, iron, potassium, calcium, and magnesium. It's a great substitute to use in recipe to replace peanut or almond butter.
Ground flaxseeds provide the body healthy omega 3 essential fats and protein. It also contains zero sugar and has fibre and iron. Ground flaxseeds is great for building strong hair and nails.
Each ingredient in this recipe (and most of my recipes) is perfectly selected because of the nutrition it can bring into the body. The only downside of this recipe is that there is 1/4 cup of sugar, I usually only like to add 1-2 tablespoons. BUT I am always trying to find the balance between healthy and edible for my kids. This recipe hit the mark and my kids are obsessed with this recipe, I hope your family loves them too.
This Recipe is:
gluten-free
dairy-free
nut-free
delicious
kid-approved
Healthy School Safe Chocolate Cookies
Makes: 10-12 cookies
Prep Time: 5 minutes
Bake Time: 20-25 minutes
Ingredients
1 large ripe banana, mashed
1 cup gluten-free oats
1/4 cup cacao powder
1/4 cup ground flaxseeds
1/4 cup tahini,
1/4 cup apple sauce
1/4 cup pure maple syrup
1 egg
1/2 teaspoon baking soda
dash of salt
1/4-1/2 cup dairy-free chocolate chips (or favourite nuts, seeds, coconut, dried fruit)
Directions
Preheat oven to 350 degrees F and line 1-2 cookie trays with parchment paper.
In a large bowl add in banana and mash with a fork. Add in oats, cacao powder, ground flaxseeds, tahini, apple sauce, pure maple syrup, 1 egg, baking soda and a pinch of salt. Stir to combine well and spoon out batter into cookies on prepared baking tray.
Bake for 20-25 minutes until cooked through. I did 20 minutes but I like my really gooey.
Store in airtight container in fridge for up to 4 days for ultimate freshness.
If you make this recipe I would love to hear what you think in the comments below or tag me in your pictures over on Instagram or Facebook @pam_rocca. I love seeing what you are enjoying and creating from the blog.
As always sharing is caring, if you know someone who would love this recipe I would so appreciate you sharing it with them.
With Love,