This Slow Cooker Barbecue Pulled Chicken recipe is perfect for a delicious, easy dinner and it's a hit with the entire family. During the Winter months our family loves to Ski, the slow cooker is a perfect tool to use because you get to come home for a hot meal that's already cooked and ready. Even if you don't ski, you can easily toss all the ingredients into your slow cooking in the morning and leave it on low. This will allow you to come home from work with dinner already done for you.
My favourite part of this recipe is that it is so simple to make it literally takes under 5 minutes of prep work and everything just goes in the slow cooker. The sauce is flavourful and makes the chicken tender and juicy.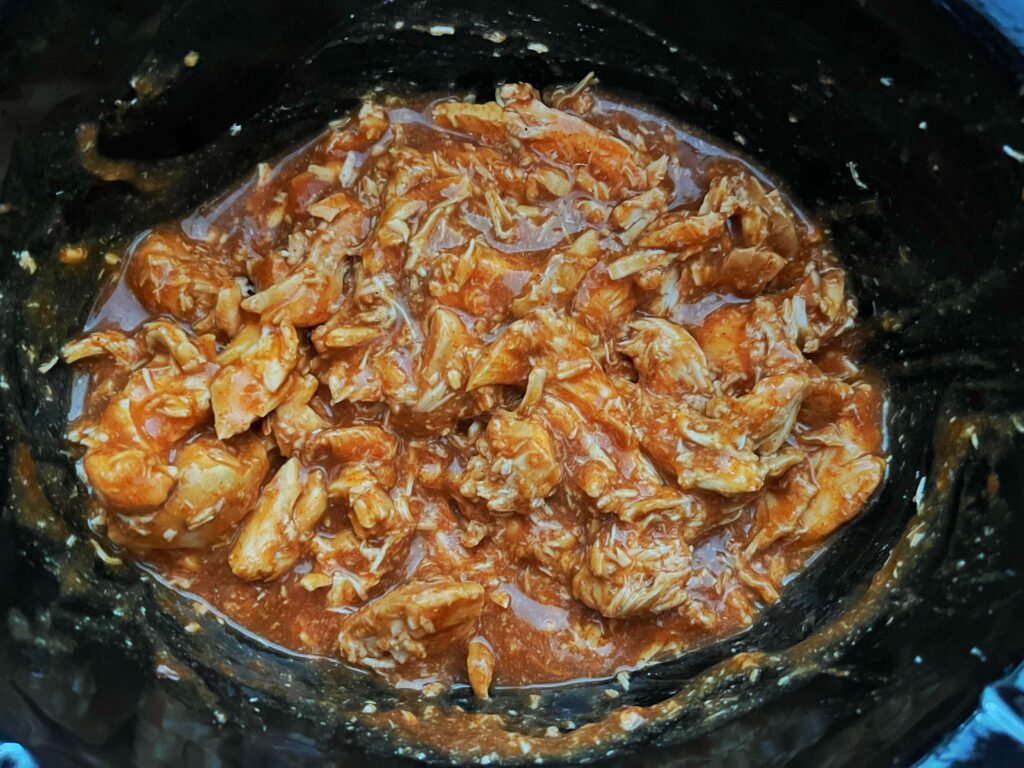 This is a great recipe to prep for a protein source for your weekly lunches. Add in a tray of roasted veggies and you have simple, nourishing lunches for the week.
I know this recipe can be whipped up really quickly so there is not need to meal prep it but I think it is important to know that this recipe can be turned into a freezer meal. Toss all ingredients in a large freezer bag, be sure to label it with what the recipe is and the package date. This is helpful to prep ahead for nights where you don't have time to cook, it's also really helpful to prep or gift expecting mothers. When I was expecting I loved to fill my freezer with delicious freezer meals so that way when the baby arrived I had one less thing to worry about. My sister recently had a baby boy and she mentioned her favourite gift when the baby arrived with pre-cooked or prepared foods.
Here are some of the ways you can enjoy this recipe:
The kids love to eat this dish as tacos that way everyone can use their favourite toppings. I love to do mine in lettuce wraps loaded with extra veggies for more fibre, vitamins, minerals and nutrients.
You can serve this up on a big bun as a shredded BBQ pulled chicken sandwich, top with homemade coleslaw (or broccoli slaw) and mashed avocados.
My favourite way to enjoy this dish is mixed with roasted veggies in the picture shown above.
I also love this recipe as a stuffed spaghetti squash recipe (I shared on Instagram https://www.instagram.com/p/CWEknQEPgJv/)
My kids love this dish with mashed potatoes and cooked carrots or mashed sweet potatoes and green peas.
This recipe is so versatile make it work for you. It has already been a huge hit with the Instagram community and families over there. If you make this recipe drop a comment below on how you enjoyed it.
This Recipe is:
Dairy-free
Gluten-Free
Delicious
Comforting
A hit with the whole family
A simple crock pot dinner
The best part is you get to choose how you enjoy it! See our recommendations and suggestions below.
Slow Cooker Barbecue Pulled Chicken
Makes: 4-6 servings
Prep Time: 5 minutes
Cook Time: 4 hours on high or 8 hours on low
Ingredients
4-5 boneless, skinless chicken breasts
1/2 cup barbecue sauce
1/2 cup ketchup
1 tablespoon tamari (or soy sauce)
2-3 tablespoons coconut sugar (or brown sugar)
1 teaspoon chili powder
1 teaspoon paprika
1/2 teaspoon cumin
1/2 teaspoon garlic powder
1/2 teaspoon onion powder
Directions
In a small bowl add barbeque sauce, ketchup, tamari (soy sauce), coconut sugar, chili powder, paprika, cumin, garlic and onion powder and stir to mix well.
In your slow cooker add chicken and sauce mixture and stir to ensure that chicken breasts are coated and avoid having any dry spots.
Cook on high for 4 hours (can also do low for 8 hours), use two forks to shred chicken (or pull chicken) apart into shredded chicken. It will absorb up the leftover juices perfectly for a flavourful juicy, chicken.
Use the chicken in tacos, bowls, squash bowls or any way you desire. Recipe This recipe is a family favourite my kids love it with mashed potatoes and carrots or in Tacos.
Recipe Note – If you are looking to lower the sugar content you can make your own barbeque sauce and ketchup from scratch, both recipes are in my Sugar Detox Cookbook. 
If you make this recipe I would love to hear what you think in the comments below, or be sure to tag me in your pics or DM over on the socials @pam_rocca.
As always sharing is caring, if you know someone who would love this recipe I would so appreciate you sharing it with them.
With love,