In this episode, I share how I overcame one of my biggest fears by using my spiritual practices.  I recently went skydiving and shared my experience of overcoming my fear of heights and by turning to my mindset and spiritual practices to make it an enjoyable and exciting experience.
You can use the strategies and tools that I share in this episode to help you overcome any fears, limiting beliefs, or obstacles that are standing in the way. The fun thing is once you overcome one block or fear, you realize that you really do have the power and capacity to keep doing it over and over again.
Tune into episode #86:
In this episode, I also share one question that you can ask yourself to see what really creates a fulfilling life for you. This question helps me when I feel stuck or need clarity on a situation. That's the first step in overcoming fear, it's the conscious choice to make that decision and come up with a plan of action that feels aligned and helpful.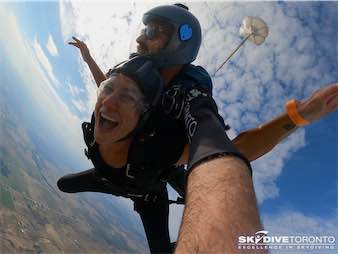 As you can see from this picture, sometimes fear really stands in the way of the fun, joy and exhilaration we could be experiencing. What fears have been holding you back from truly living your life? Are you ready to dive into this episode and learn how you can use your spiritual practices to over come them?
Connect with Pam:
Instagram: @pam_rocca
TikTok: Pam_Rocca
Email: [email protected]
Website: www.pamrocca.com
Work with me 1:1 coaching or in an intuitive reiki session or oracle card readings if you feel called to it. Contact to book your readings or sessions.
If you enjoyed this episode please take a moment to leave a review of the podcast or share it with a friend who you know would love it too.
With Love,